Wellness with Luxury – Thai Spa Massage in Sharjah, Ajman
Are you exhausted with the stress of the busy working schedules and want to recharge your energy? Here is the simple solution that will magically rejuvenate your body and revitalize your soul: THAI MASSAGE. You are at the right place to learn every detail about Thai Spa massage, its properties, benefits and more. Chameli Spa Ajman welcomes you to the best Thai massage in Sharjah with high quality massages that benefits you physically and mentally.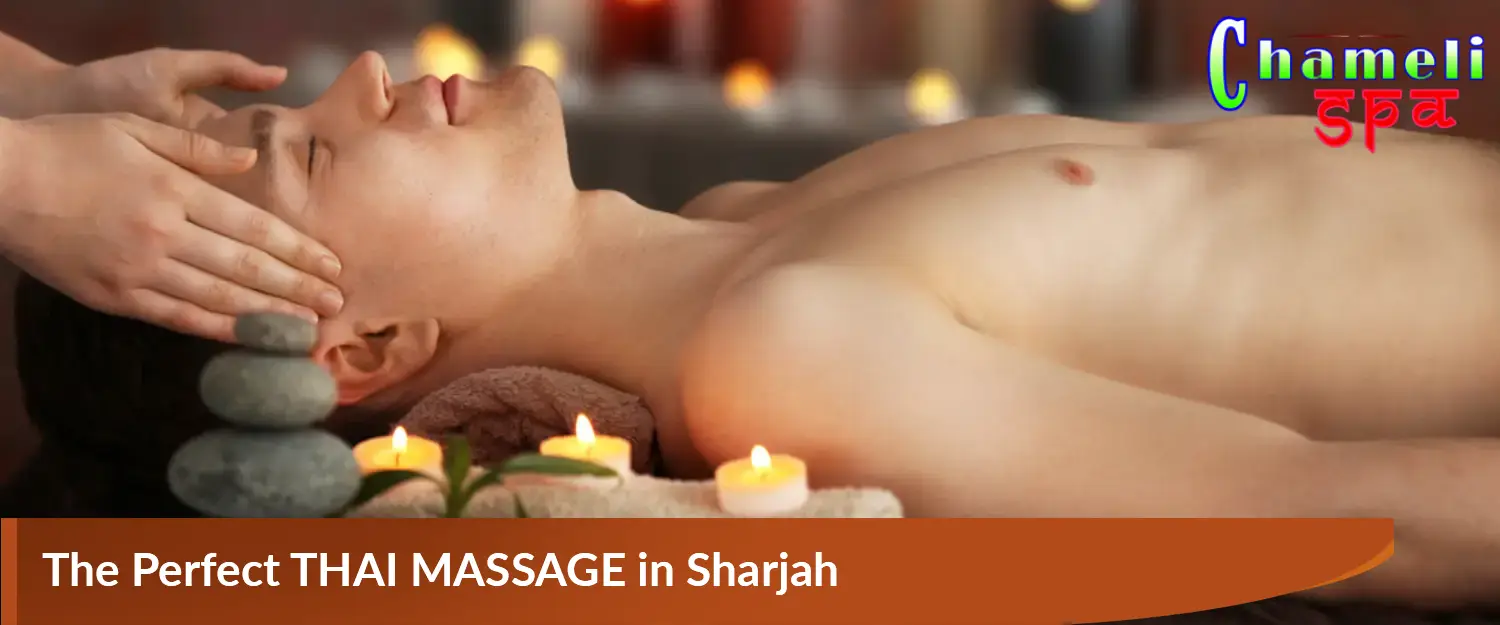 Thai Massage - The Origin &Techniques
Thai spa massage has a blend of many Asian medicinal traditions and thus can be seen to share some common values with certain Asian traditional practices of healing.
The technique of Thai massage is quite different from other massages in the sense that the practice is done without using any massaging oils or lubricants. This can be said as a dry massage but more active in techniques. The body stretching movements in Thai massage resembles yoga and thus it is often referred to as a 'lazy person's yoga'. The massage practitioner uses his or her hands, legs, knees and feet to manipulate the person's body. Techniques like pressing, rolling, leaning, rocking, circling and squeezing are used by the practitioner.
It is said that we have 'sen lines' in our body, which is a path in which our energy flows through. Thai traditional medicine states that improper alignment of sen lines results abnormal energy flow within the body and thus a person's body suffers many physical disorders and pain. Thai Massage reduces stiffness of your muscles and aligns your sen lines. Chameli's Thai massage experts understand your body's stiffness and put pressure on the sen lines to reduce the discomforts you feel.
Proven Benefits of Thai Massage
It helps in relieving your migraines or tension headaches
Reduces back pain.
It can soften your joint stiffness and pain, especially for people with knee arthritis.
Increases flexibility and range of motion, which is very great for athletes.
Lessens anxiety. One of the most appealing factor of Thai massage therapy is the sense of calm and relaxation it can bring
It revives energy. Thai massage facilitates whole-body movements, especially yoga-like postures. This is why people leave Thai massage sessions feeling not only relaxed but also rejuvenated.
Chameli Spa - The Center for Traditional Thai Massage in Sharjah
If you are looking for great & genuine massage centers for getting a Thai Massage, treat yourself and indulge in pure relaxation at Chameli Spa Sharjah Massage Centre. Our Thai massage therapists are ready to offer the best Thai Spa massage in Sharjah, Ajman and Al - Rashidiya. This includes compressing tense points, stretching and rubbing muscles thereby providing flexibility, reduces tension and balancing the body's energy system.
Treat yourself to a Thai massage combined with a combination of stretches and a full body scrub massages. We have luxury massage spas in Sharjah and Ajman which includes Thai massage, Kerala traditional massage, Indian massage, deep tissue massage, body scrub massages, full body massage sports massage and more with best prices for all premium massages.
Chameli Spa Ajman, the best and the cheapest 24 Hours Spa massage centre in Sharjah, Ajman offers excellent Thai Massage Services to rejuvenate your body, mind and soul.
If you wish to switch from your traditional types of massage, just relax. Thai massage in Ajman may be just what you're looking for. Our professional Thai massage therapists will treat you the best for your wellness.
You can Call us - 00971 567938432 now and book your sessions.